We are a small and flexible team of professionals with more than 30 years of experience in the real estate sector. We will be happy to assist you in English, Spanish, German, French and Portuguese.
Leo Bohnke
Anne Zobel
Martina Warbeck
Carola Wagner
Energy efficiency
Not required
Awaiting
Requested to the owner
For a better overview, the photos may have been taken with a wide-angle lens, which could give the impression of larger spaces.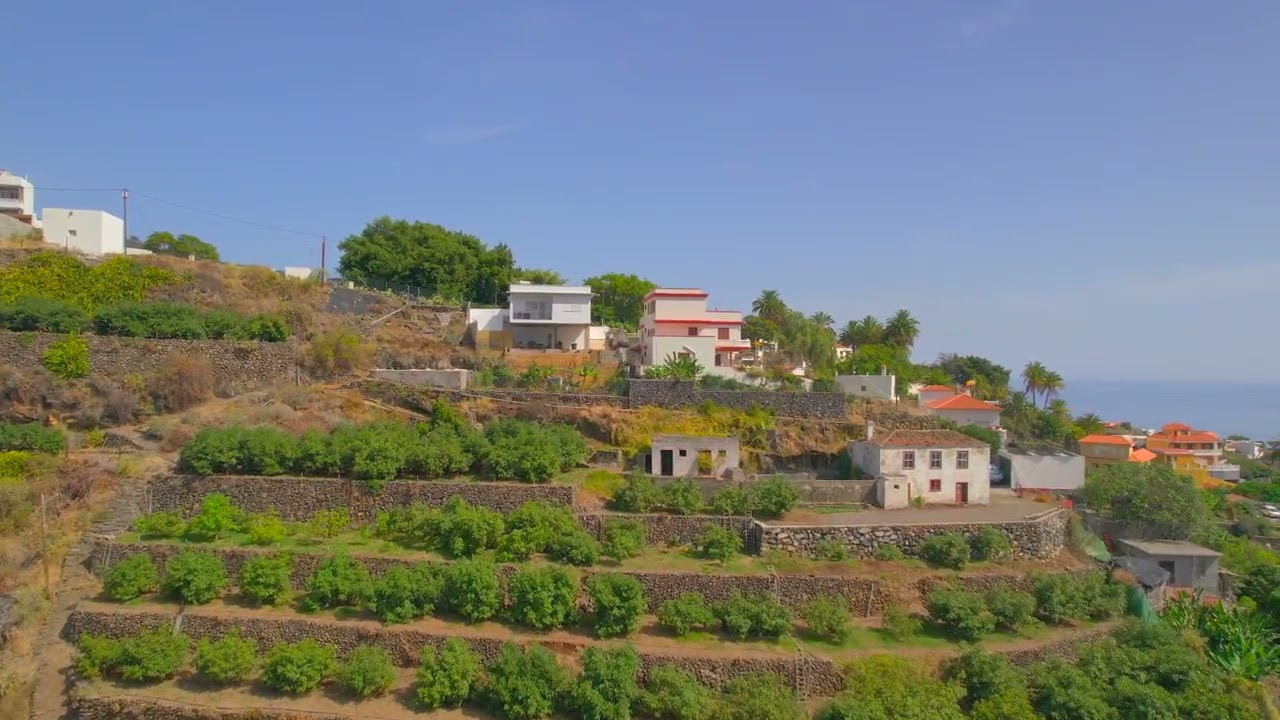 Old canarian house to renovate with land planted with avocado trees
This property is located in La Dehesa, within the municipality of Santa Cruz de La Palma. At an altitude of approximately 180 metres, it enjoys breathtaking views of the sea and the mountains. The finca has a plot of land of approx. 6.700 m², flat and levelled in terraces, on which avocado trees are planted.

The main building is an old two-storey Canarian house in need of renovation. The lower floor, of about 58 m², houses a kitchen, several storage rooms and an outside toilet. The upper floor, of approximately 63 m², has a living room, two bedrooms and a bathroom. Additionally, the property includes an old barn of approx. 32 m² and an irrigation water deposit of approx. 192,50 m³.

This finca, with its quiet location on the edge of the village, offers a shared access with automatic gate. Furthermore, it is only a short distance away from essential services such as bus stop, supermarkets, health centre and the beach. It represents an excellent business opportunity, with potential to expand the building and take advantage of its unique location. A property with many possibilities, ideal for those seeking tranquillity and natural beauty.
LOCATION:
Municipality of SANTA CRUZ DE LA PALMA
Locality of LA DEHESA
With a mountain and a sea view
calm environment
ca. 180 m above sea level
DESCRIPTION:
- The property has in total approx. 6.700 m²
- Antique two-story house of about 121 m² overbuilt space
Lower floor of approx. 58 m²
Kitchen
Several storage rooms
Outdoor toilet
Upper floor of approx. 63 m²
Living room
2 bedrooms
1 bathroom
- Old shed of about 32 m²
- Irrigation water tank of about 192,50 m³
GENERAL CONDITION:
The house needs an overall restoration
BUILDING MATERIALS:
Hipped roof
Walls made of common hollow blocks
Doors and windows of wood
Ceramic floor tiles
SUPPLIERS:
Electricity
Private water shares
GROUND:
The property has approx. 6.700 m²
Flat land
Levelled into terraces
Fertile land
Manual irrigation system
Avocados
ROAD COMMUNICATION:
Private concrete driveway, with gate
WALKING DISTANCES:
Bus stop about 6 minutes
Small grocery store approx. 6 minutes
DRIVING DISTANCES:
Supermarket approx. 4 minutes
Santa Cruz in about 5 minutes
Health center in about 5 minutes
Beach approx. 6 minutes
Restaurant approx. 6 minutes
Breña Alta in about 10 minutes
Hospital approx. 12 minutes
Airport in about 16 minutes
El Paso in about 25 minutes
Los Llanos in about 35 minutes
MORE INFORMATION:
Beautiful view towards the Atlantic and the mountains, that can't be obstructed
Fantastic location
Location at edge of the village
Property in a very quiet place
Shared entrance with automatic gate
Expandable building
Business opportunity!
Unique location! A property with many possibilities
---
We can help you to get a mortgage with the best conditions:
We can get the best conditions among more than 20 banks.
You will be able to carry out almost all the procedures from your home. We will ask you for the necessary information and documents and we will take care of the follow-up.
We will not charge you anything for this procedure.
Leave us your contact data and we will get in touch with you.
Mortgage enquiry
---
ADDITIONAL COSTS WHEN BUYING A PROPERTY:
Every purchase of real estate causes additional costs to the stated selling price, generally in the range of 10 to 11 %. These expenses are usually the following:
the land transfer tax: 6.5 % of the purchase price
the costs of land registration
the notary fees
the costs of changing ownership in the cadastre
the professional fee payable by the buyer to the real estate agency: 3 % (minimum 1,800 Euros, IGIC not included) of the real purchase price
Additional costs and variations to be considered:
the mortgage costs, in the case of financing the purchase
If the seller is a promoter, there is no land transfer tax to pay, but 7 % IGIC plus 1 % for documented juridic acts tax, of the purchase price
Standard remark: the descriptions are redacted with the data provided by the sellers. INMOBILIARIA LA PALMA - ILP LEO BOHNKE S.L.U. disclaims all responsibility about possible deviations or errors between what is described here and the reality. However, before we begin the buying process, we do all the in-depth checks about the property.