We are a small and flexible team of professionals with more than 30 years of experience in the real estate sector. We will be happy to assist you in English, Spanish, German, French and Portuguese.
Leo Bohnke
Anne Zobel
Martina Warbeck
Carola Wagner
+ buyer's commission (3% + IGIC)
Energy efficiency
Not required
Awaiting
Requested to the owner
For a better overview, the photos may have been taken with a wide-angle lens, which could give the impression of larger spaces.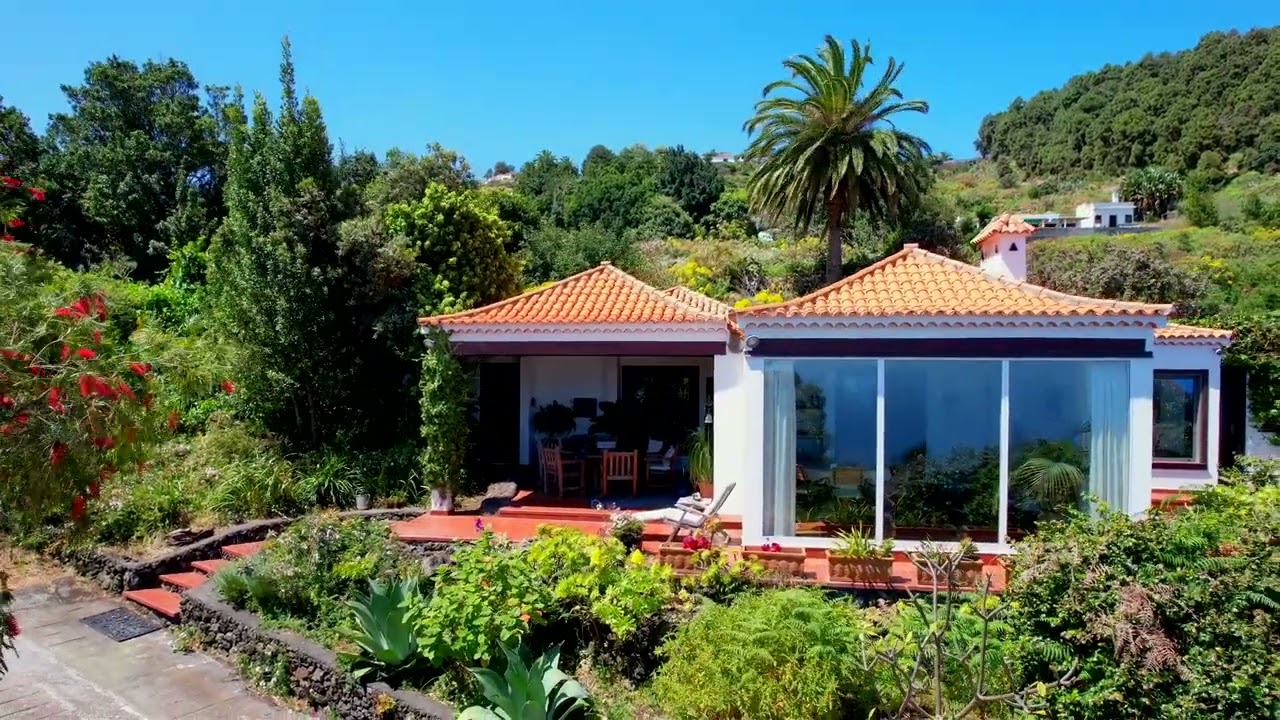 Beautiful country house on a large property with a fantastic view
LOCATION:
Municipality of MAZO
Locality of LA ROSA
With a mountain and a sea view
Quiet location
ca. 425 m above sea level
DESCRIPTION:
- The property has in total approx. 3.975 m²
- Single storied dwelling house of approx. 180 m² overbuilt space
Kitchen
Living room
Dining room
Winter garden
3 bedrooms
1 bathroom with bathtub
1 bathroom with a shower
Laundry
Covered terraces
- Garage-storage of ca. 30 m²
- Covered parking
- Romantic terraces
- Water storage
GENERAL CONDITION:
Very good general conditions
BUILDING MATERIALS:
Roofs in Canarian style
Double outer wall of vibrated concrete blocks
Exterior doors and windows in aluminum with double glazing
Internal wooden doors
Ceramic floor tiles
All the carpentry is made of high quality mulberry wood
Verandas of wood with tiles
CLIMATE CONTROL:
Fireplace in the living room
Electric heating in bathroom
Wall-mounted gas radiator that draws in air from the outside and also exhausts the combustion gases outwards
HOT WATER:
SUPPLIERS:
Electricity
Private water share
INVENTORY:
Furniture and equipment partially included
GROUND:
The property has approx. 3.975 m²
Situation in the hillside
With a slight slope
Thick vegetation with mature trees
Ornamental trees and plants
Flowers
ROAD COMMUNICATION:
Concrete driveway
Good drivable way
Dead end road
DRIVING DISTANCES:
Los Llanos in about 36 minutes
El Paso in about 24 minutes
Breña Alta in about 12 minutes
Santa Cruz in about 16 minutes
Supermarket approx. 5 minutes
School in about 5 minutes
Health center in about 5 minutes
Beach approx. 15 minutes
Hospital approx. 12 minutes
Airport in about 10 minutes
MORE INFORMATION:
Property in a very quiet place
Automatic irrigation
Completely fenced property
Romantic place for nature lovers
Authenticity, charm and comfort. A jewel that you will love
---
ADDITIONAL COSTS WHEN BUYING A PROPERTY:
Every purchase of real estate causes additional costs to the stated selling price, generally in the range of 10 to 11 %. These expenses are usually the following:
the land transfer tax: 6.5 % of the purchase price
the costs of land registration
the notary fees
the costs of changing ownership in the cadastre
the real estate agency's professional fees: 3 % (minimum 1,800 euros, IGIC not included) on the real selling price
Additional costs and variations to be considered:
the mortgage costs, in the case of financing the purchase
If the seller is a promoter, there is no land transfer tax to pay, but 7 % IGIC plus 1 % for documented juridic acts tax, of the purchase price
Standard remark: the descriptions are redacted with the data provided by the sellers. INMOBILIARIA LA PALMA - ILP LEO BOHNKE S.L.U. disclaims all responsibility about possible deviations or errors between what is described here and the reality. However, before we begin the buying process, we do all the in-depth checks about the property.